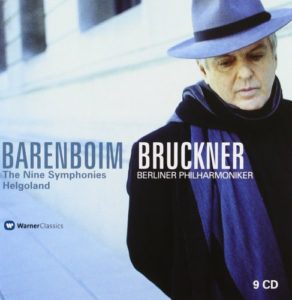 If you're reading this (whoever "you" are), you can follow me on the next leg of my journey through nine of Anton Bruckner's major symphonies on 63 More Days With Bruckner And Me.
Over there, I'm listening to Daniel Barenboim conducting the Berliner Philharmoniker, Bruckner's Symphony No. 1 in C Minor.
It's one of the CDs in the Warner Classics box set of Bruckner's symphonies. From what I gather, these performances were recorded in the 1990s.
When I get a chance, I'll total up all the stats from my posts in this blog and post them.
From the stats, I'll be able to tell which box set I liked most, which one I liked least, stats about the conductors, stats about when the performances were recorded, perhaps even which symphony I liked best, etc. Nerdy stuff.
Watch for that information.
In the meantime, THANK YOU to the more than four hundred people – from nearly four dozen countries! – who visited my site since I started it back in October of 2016.
That's fascinating (and humbling) to me.
I hope the next leg of my Bruckner journey will interest you as much as the first one did.
See you over there!