This morning's conductor of Anton Bruckner's Symphony No. 2 in C Minor (WAB 102) is American Lorin Maazel (1930-2014), a person about whom I knew nothing and of whom I had never heard until I started this project.
I first encountered Mr. Maazel on Day 9, and I wrote this:
Maazel's Allego is sluggish and tired. His Finale is bloated and the applause at the end is self serving.

In fact, if I had two pick one word that covers this performance it would be sluggish.

Not even the final :60 of Adagio, the one minute where Bruckner's First Symphony sounds the most magical to my ears, just lies there under the direction of Maazel.

I could not recommend this performance to a Bruckner newbie.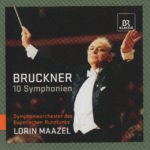 So, to be honest, I wasn't exactly looking forward to this morning's fare.
Let's get right down to it – the objective aspects:
Bruckner wrote his symphonies in four parts. The time breakdown of this one (Symphony No. 2 in C Minor, 1877 Nowak Edition), from this particular conductor (Maazel) and this particular orchestra (Symphonieorchester des Bayerischen Rundfunks is as follows:
Moderato………….20:59
Andante…………….17:32
Scherzo……………….7:31
Finale…………………12:31
Total: 69:34
Whoa, whoa, whoa. Did I just type 69:34? Nearly 70 minutes?!?!?!
Let's compare the timing of Maazel's interpretation to that of the last two – one from von Karajan, and one from Jochum.
First, von Karajan:
Moderato………….18:16
Andante…………….17:34
Scherzo……………….6:12
Finale…………………18:06
Total: 60:08
Now, Jochum:
Moderato………….18:00
Andante…………….14:57
Scherzo……………….6:34
Finale…………………12:46
Total: 52:38
The Maazel recording this morning is nine minutes longer than von Karajan's and a staggering 17 minutes longer than Jochum's!
Before I type more so-called "objective stats," I need to comment on that. It brings to mind what I concluded about Maazel the first time I listened:
Karajan sounds monumental. Haitink sounds monumental. Schaller sounds monumental. This just sounds bloated.
I guess "bloated" is about as good a word as any at this point.
But, I'll save the conclusions for the end. First, more hardcore stats:
Bruckner's Symphony No. 2 in C Minor, composed in 1872
Lorin Maazel conducts
Symphonieorchester des Bayerischen Rundfunks plays
The version used is the 1877 version, edited by Leopold Nowak
The symphony clocks in at 69:34
This was recorded in January, 1999, in Munich, Germany
Maazel was 69 when he conducted it
Bruckner was 48 when he composed it
This recording was released on the BR Klassik Record Label
Okay. Now for the subjective aspects to this morning's listening:
My Rating:
Recording quality: 2
Overall musicianship: 3
CD liner notes: 3
How does this make me feel: 2
Once again, I am left cold as a mackerel by a Maazel-conducted performance.
The words that come to mind this time are…
Direction-less.
Meandering.
Unfocused.
Uninspired.
I swear I'm listening to some of these movements and I'm thinking, "What's the point here? Where is this going?" and, more often than not, "Why is this so long?"
I'm sorry, Maazel fans. I can't get into this interpretation of Bruckner's Second Symphony.
NOTE: My conclusions do not mean Maazel is a poor conductor, that the musicians are sub-par, or that this was recorded in a sloppy fashion. Music is extremely subjective, as I'm discovering. This particular recording, by this particular conductor, recorded on this particular day, in that particular year, doesn't move me. The fault could be entirely mine.