This morning's conductor of Anton Bruckner's Symphony No. 3 in D Minor (WAB 103), nicknamed "Wagner," is Georg Tintner (1917-1999), the Austrian-born composer/conductor I often hear on a local Classical radio station.
I first encountered (at least during this 144-day project) Mr. Tintner on Day 15 and on Day 31.
Before I type another word, I have to break with tradition and type this word –
YIKES!
– because I just saw the timing for this performance: 77:34.
Nearly 80 minutes long?!?!?!?
Did somebody tell Maestro Tintner that he was getting paid by the minute?
Even for Tintner – whom I regard as one of the Cadillacs of the conducting world – that's asking a lot from us.
I have to interject another subjective comment here.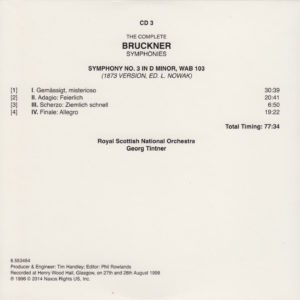 Note the back of the CD sleeve.

That's the way it's done.
The music label that published the Skrowaczewski box (that I reviewed most recently on Day 45) could take a lesson from Naxos. Everything about this set of Tintner performances is first rate. Even the construction of the box itself. Heavy cardboard. Pull-off top. Sturdy, visually appealing. Nice.
But, I digress. First, the objective aspects – the "nuts and bolts" as I've been calling them:
Bruckner's Symphony No. 3 in D Minor, composed in 1873
Georg Tintner conducts
The version Tintner chose is the 1873 original version, ed. by Nowak
Royal Scottish National Orchestra plays
The symphony clocks in at a mind-numbing 77:34 (making it the longest of all 15 versions of Symphony No. 3 to which I've listened in this project to date)
This was recorded on August 27 and 28 of 1998, at Henry Wood Hall in Glasgow, Scotland
Tintner was 81 when he conducted it
Bruckner was 49 when he composed it
This recording was released on the Naxos music label
Bruckner wrote his symphonies in four parts. The time breakdown of this one (Symphony No. 3 in D Minor, Original 1873 version), from this particular conductor (Tintner) and this particular orchestra (Royal Scottish National Orchestra) is as follows:
Moderato (misterioso, officially)………………………….30:39
Adagio: Feierlich……………………………………………………20:41
Scherzo: Ziemlich schnell ……………………………………..6:50
Finale: Allegro……………………………………………………….19:22
Total: 77:34
Okay. Now for the subjective stuff…
My Rating:
Recording quality: 4
Overall musicianship: 5
CD liner notes: 5 (lengthy essays on each symphony, written by Georg Tintner)
How does this make me feel: 3
I should have loved this. I should have listened and felt like I'd died and gone to heaven.
However…
Nearly 80 minutes?!?!?!?
I can't get past the YIKES! in the room.
I just looked back on all 15 conductors I've heard so far.
Prior to Tintner, the longest interpretation of Movement I was from Sanderling (Day 44) at 23:05. The longest overall timing for Bruckner's Third Symphony was 69:18 from Barenboim (Day 33) at 69:18.
I thought Barenboim's interpretation was long. But Tintner's this morning is longer by almost 10 minutes!
Tintner's Movement I seems to be where the length arises. At 30:39 it's nearly one and a half times longer than any other interpretation of the First Movement.
Now, once again, I'm no musicologist. I do not know to what I can attribute the expansive length for Tintner's interpretation. Is it attributable to the Original 1873 Version, ed. by Nowak? Did the first version of Bruckner's Third Symphony clock in at nearly 80 minutes in length?
I do not know.
All I do know is that the last time I heard Tintner interpret a Bruckner Symphony (Symphony Two, reviewed on Day 31) I gave it all 5s across the board, for each category and wrote this:
How does this make me feel: 5

I wanted to type "4" for the most important aspect of all – how this symphony makes me feel – because of the bloated length. To may way of thinking, any version of a symphony that requires an extra 20 minutes to tell the story is a symphony I don't want to hear.

Alas, I couldn't.

I had to give it a "5."
I can't do it this time. I can't give it a "5" for how it makes me feel because it makes me feel bored. I know that's probably blasphemy because this is Georg Tintner – one of the foremost interpreters of Bruckner who ever lived!
Yet, I'm not feeling the wow factor. These movements just seem to go on forever.
From the superb liner notes written by Tintner:
This enormous work (Bruckner's largest) underwent several 'improvements' by well-meaning students and also by the insecure master himself (the 1877 and 1888/89 versions are commonly played today, especially the latter). Only in 1977, 103 years after its creation, was the original published by Leopold Nowak. It was fortunate that this original was preserved in the dedication copy to Wagner: 'To the unreachable world-famous noble Master of Poetry and Music.'

To my mind this work, as originally conceived, suffered by its progressive mutilations more and more, and we should take the time to play and to listen to this amazing original. It is not only very long but it practically overflows with brilliant ideas, but not exclusively his own.
I'm sorry. But I can't enjoy a symphony that goes on for nearly 80 minutes when I've heard some truly electrifying interpretations of the same symphony, one of which is over 25 minutes shorter! (That would be Tennstedt's interpretation, discussed on Day 35.)
By the time I got to the end (Finale: Allegro), I was rejoicing, all right. But not because of a feeling of triumph or awe; rather, because I was glad the symphony was over. Tintner's Movement III peters out, almost reluctantly, like the entire orchestra just ran out of steam.
I know the feeling.