This morning's conductor of Anton Bruckner's Symphony No. 5 in B-Flat Major (WAB 105) – nicknamed "Tragic," "Church of Faith," or "Pizzicato" symphony (for reasons I'm still discovering), is German-born Michael Gielen (1927-).
The orchestra is SWR Sinfonieorchester Baden-Baden und Frieburg.
I had never heard of Michael Gielen prior to starting my project back in October.
But I've heard his work four times now, starting on Day 4.
Then again on Day 20.
Then again on Day 36.
Most recently, on Day 52.
Today is the fifth time I'm listening to Mr. Gielen conduct a Bruckner symphony.
Now, for the nuts and bolts of today's performance: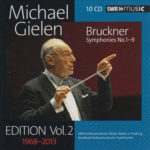 Bruckner's Symphony No. 5 in B-Flat Major (WAB 105) composed in 1875-1876
Michael Gielen conducts
Gielen used the "Original version 1878"
SWR Sinfonieorchester Baden-Baden und Frieburg plays
The symphony clocks in at 70:27
This was recorded in Germany in 1988 and 1989 (I have no idea which parts were recorded when, or why it appears two performances were put together)
Gielen was 62 when he conducted it
Bruckner was 51 when he finished composing it
This recording was released on the SWR Music label
Bruckner wrote his symphonies in four parts. The time breakdown of this one (Symphony No. 5 in B Flat Major, "Original version 1878"), from this particular conductor (Gielen) and this particular orchestra (SWR Sinfonieorchester Baden-Baden und Frieburg) is as follows:
I. Introduction (Adagio) — Allegro. B-flat major……………………………21:31
II. Adagio. Sehr langsam. (Very slowly) D minor……………………………15:47
III. Scherzo. Molto vivace D minor…………………………………………………14:21
IV. Finale (Adagio) — Allegro moderato. B-flat major…………………..25:17
Total running time: 70:27
The iTunes information for this symphony tells me the 1878 version was edited by Leopold Nowak.
Okay. Now for the subjective stuff…
My Rating:
Recording quality: 3
Overall musicianship: 3
CD liner notes: 4 (short essays on the Michael Gielen Edition, Bruckner's symphonies, and the orchestra, translated into English and German)
How does this make me feel: 2
For some reason, this left me colder than a February night in Michigan. Nothing about it felt right. I didn't like the brassiness of the brass, the seemingly lethargic tempo, how it was recorded, the performances from the musicians – nothing.
Frankly, if iTunes didn't tell me the track names and the name of the symphony, I'd swear this was another symphony entirely. It sounded and felt that different to me.
According to its entry in New World Encyclopedia,
Many consider this symphony to be Bruckner's lifetime masterpiece in the area of counterpoint. For example, the Finale is a combined fugue and sonata form movement, and has been referred to "as the most monumental finale in symphonic literature." It has also been referred to as the "Tragic," "Church of Faith," or "Pizzicato" (as it is the only one of his symphonies to begin with a pizzicato theme).
Except I'd never know this was "Bruckner's lifetime masterpiece" from this recording of Gielen's interpretation.
Frankly, even if this were the greatest interpretation of all time, I'd disagree with that encyclopedia entry. To me, this isn't Bruckner's masterpiece. I had a lot more fun – and was far more into it – with previous symphonies. This one just sort of lies there. Especially in this recording.
Maybe there's something I'm missing.
All I know is this didn't do it for me.
I'm still trying to figure out why this is nicknamed "Church of Faith" or "Tragic." I get "Pizzicato." I hear that clearly. But I don't know where the other two nicknames come from.
Does anyone else?
I'll keep digging.