Ladies and gents, this is what my wife and I encountered this morning at 6am when we pulled into the parking lot of a local restaurant to sit, sip some coffee, and listen to Haitink's interpretation of Bruckner's Fifth.
Welcome to Hell – I mean, Michigan – in early December.
This morning's conductor of Anton Bruckner's Symphony No. 5 in B-Flat Major (WAB 105) – nicknamed "Tragic," "Church of Faith," or "Pizzicato" symphony (for reasons I'm still discovering), is Dutch conductor Bernard Haitink (1929-). The orchestra is Royal Concertgebouw Orchestra.
I first encountered Maestro Haitink on Day 5 of my 144-day project.
Then again on Day 21.
And again on Day 37.
And, most recently, on Day 53.
It would be no exaggeration to say that I was deeply impressed. Whatever "it" is that makes a recording magical, Mr. Haitink's recordings have it. In spades.
But I'll reserve the subjective stuff for later.
First, it's just the facts, Ma'am: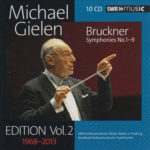 Bruckner's Symphony No. 5 in B-Flat Major (WAB 105) composed in 1875-1876
Bernard Haitink conducts
Although it doesn't explicitly state which version Haitink used, I can glean from the booklet that it's likely Haitink used the first version (see photo of booklet)
It doesn't state that the information in boldfaced type is the version Haitink chose. I have to infer that. Even at that, I wasn't aware that a version from 1875-76 existed. In fact, according to its entry on Wikipedia,
1876 version

This version is still unpublished.

In 1997, a first attempt of reconstruction of the 1876 version, by including in the Finale music from the "1876 First Concept" (Ed. Carragan), was recorded by Shunsaku Tsutsumi with the Shunyukai Symphony Orchestra.

In 2008, Takanobu Kawasaki was able to assemble the original concepts (1875–1877) of the symphony from manuscripts Mus.Hs.19.477 & Mus.Hs.3162 at the Austrian National Library. These original concepts have been recorded by Akira Naito with the Tokyo New City Orchestra. As commented by John F. Berky, "It is the best available CD to present some of Bruckner's earlier thoughts for this massive symphony." In its original concepts the symphony is scored without a bass tuba and more prominence is given to the string instruments. The tempo of the Adagio introduction of movements 1 and 4, and that of movement 2 are scored Alla breve, i.e., notably faster than in the 1878 version.
So I'm not really sure which version the CD booklet is trying to tell me Haitink used. Even if it is the first version – as indicated by the boldface type – did anyone edit it? Haas? Novak? Carrigan?
SWR Sinfonieorchester Baden-Baden und Frieburg plays
The symphony clocks in at 71:53 (although the CD booklet didn't total it up for me; I had to do it myself)
This was recorded in Amsterdam in December of 1971
Haitink was 42 when he conducted it
Bruckner was 51 when he finished composing it
This recording was released on the Philips record label
Bruckner wrote his symphonies in four parts. The time breakdown of this one (Symphony No. 5 in B Flat Major, probably the first version), from this particular conductor (Haitink) and this particular orchestra (Royal Concertgebouw Orchestra) is as follows:
I. Introduction (Adagio) — Allegro. B-flat major……………………………18:52
II. Adagio. Sehr langsam. (Very slowly) D minor……………………………18:33
III. Scherzo. Molto vivace D minor…………………………………………………12:17
IV. Finale (Adagio) — Allegro moderato. B-flat major…………………..22:51
Total running time: 71:53
Okay. Now for the subjective stuff…
My Rating:
Recording quality: 4 (notable tape hiss that reminds me, especially at the opening of Movement I, of rain falling)
Overall musicianship: 5
CD liner notes: 4 (excellent essay by Jorge Peter Urbach, translated into English, German, and French)
How does this make me feel: 5
Bruckner's Fifth is growing on me – in the right hands, of course.
This recording is big without sounding cavernous. It's grand without being bloated. It's energetic without sounding rushed. The pizzicato at around 4:27 of Movement I is perfectly recorded, as is the big timpani finish of that first movement.
The horns are perfectly recorded. They're warm and alluring. Check out 8:38 to 8:45 of Movement IV (Finale).
I really, really like Haitink's interpretations.
I've heard five of them so far. And, based on that, I could wholeheartedly recommend his work for all fans of Anton Bruckner.
But, let's see what happens with Symphonies 6, 7, and 8. If they're as good as 1-5, Haitink could be my consistent favorite.
"Huzzah!"
And again I shout "Huzzah!"