My "office" this morning.
I command the entire upper deck at a local Panera Restaurant.
But it's 6:05am, so not many people are out and about. Especially to buy Panera food.
But the setting is perfect for listening, reflecting, and re-filling my ceramic mug with Light Roast coffee.
This morning's conductor of Anton Bruckner's Symphony No. 6 in A Major (WAB 106) is Italian Riccardo Chailly (1953-). The orchestra is Royal Concertgebouw Orchestra.
For this project, I first listened to Mr. Chailly on October 4th, Day 2 (Symphony No. 1).
Then again on Day 18 (Symphony No. 2).
Then again on Day 34 (Symphony No. 3).
Then again on Day 50 (Symphony No. 4).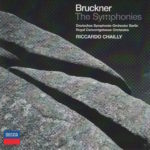 And, most recently, on Day 66 (Symphony No. 5).
One of the reasons why I enjoy these projects I undertake from time to time (aside from the fact that I love music and movies and literature) is to learn as much as I can about the subject matter, including and especially – in this case – the conductors as well as the symphonies.
I usually post a lot of background for each symphony on the first day I listen to it. I did that yesterday (Day 81, Daniel Barenboim conducting). If you want a lot of background for Bruckner's Sixth, let your mouse do the walking over to that page and read on.
I thought yesterday, and I think again today, that Bruckner's Symphony No. 6 in A major has an epic Hollywood-movie soundtrack feel to it. The two movies that came to mind first when I listened to Movement I were "Titanic" and "Lawrence of Arabia."
More about that in a moment.
First, the objective aspects of this recording.
Bruckner's Symphony No. 6 in A Major (WAB 106) composed 1879-1881
Riccardo Chailly conducts
Chailly used the Nowak edition
Royal Concertgebouw Orchestra plays
The symphony clocks in at 57:14
This was recorded at Grootezaal, Concertgebouw, Amsterdam, February, 1997
Chailly was 44 when he conducted it
Bruckner was 57 when he finished composing it
This recording was released on the Decca label
Bruckner wrote his symphonies in four parts. The time breakdown of this one (Symphony No. 6 in A Major, Nowak edition), from this particular conductor (Chailly) and this particular orchestra (Royal Concertgebouw Orchestra) is as follows:
I: Majestoso…………………………………………………………………………………………………….17:05
II: Adagio. Sehr feierlich (Very solemnly)……………………………………………………….16:44
III: Scherzo. Nicht schnell (Not fast) — Trio. Langsam (Slowly)………………………8:58
IV: Finale. Bewegt, doch nicht zu schnell (With motion, but not too fast)……14:27
Total running time: 57:14
Now, the subjective aspects.
My Rating:
Recording quality: 4
Overall musicianship: 4
CD liner notes: 3 (short essay in three languages)
How does this make me feel: 4
Despite this being DDD (all-digital recording, which can often come off as dry, or piercing), this was a fine recording of a fine performance.
My favorite movements were I (Majestoso) and Three (Scherzo).
I maintain the first few minutes of Movement I have a soundtrack-like quality to them.
I started listening to Symphony No. 6 in A major yesterday (Day 81 in my 144-day project), which started with conductor Daniel Barenboim. This morning, it's Riccardo Chailly's turn at the helm.
In both cases, I'm hearing snippets of soundtrack music – Titanic, for example. And Lawrence of Arabia. All within the first two minutes.
In the former, it's the staccato violins at the opening of Movement I (Majestoso), which sounds like what James Horner scored (albeit with percussion, strings, and horns) just after the big ship hit the iceberg. You know, to indicate a kind of Morse Code-like tension.
Titanic – "Hard to Starboard" (from 2:28-2:50 or so).
In the latter, it is the cello/bass playing a melody over those violins, and then appearing later (:58-1:15) with full orchestra, which sounds reminiscent of the theme from the 1962 Academy Award-winning Peter O'Toole movie.
Lawrence of Arabia – Main Theme (from 1:30-1:43).
I am NOT trying to say these are exact matches, or that the composers for those two movies ripped off Bruckner.
What I AM saying is that Bruckner had a way of composing that was – to me – as visual as it was aural. When I listen to Symphony No. 6, I see epic things happening on the Silver Screen.
So far, I am thrilled with Symphony No. 6 in A major. I wasn't at all into Bruckner's Fifth. But Symphony No. 6 grabbed me from the first minute of Movement I and held me to the end.
Oh, by the way, the opening minute to Movement III (Scherzo) is a lot of fun. And clever.
There is a tendency with a DDD recording that it can be brittle and dry. Especially with the horns, which – to me – require warmth to sound good.
This recording gets close to the edge of dry and brittle. But it toes the line rather than crosses it.
Recommended.