This morning's conductor of Anton Bruckner's Symphony No. 6 in A Major (WAB 106) is German-born Eugen Jochum (1902-1987), unarguably one of the most highly respected interpreters of Anton Bruckner's music who ever lived.
I have two CD box sets conducted by Jochum – this one, on the DG label (I called the "White Box"), and another on the Warner Classics label (I call the "Green Box"). I chose to listen to the symphony from the DG set first because the recordings are older. (I figured chronological order was a fair enough delineator.)
As a remember, this is from the Wikipedia entry for Jochum:
Jochum was born to a Roman Catholic family in Babenhausen, near Augsburg, Germany; his father was an organist and conductor. Jochum studied the piano and organ in Augsburg, enrolling in its Academy of Music from 1914 to 1922. He then studied at the Munich Conservatory, with his composition teacher being Hermann von Waltershausen; it was there that he changed his focus to conducting, his teacher being Siegmund von Hausegger, who conducted the first performance of the original version of the Ninth Symphony of Anton Bruckner and made the first recording of it.

Regarding his podium technique, Kenneth Woods blogs, "Look at his hands — very small and focused motions but so powerful." Woods also states that "his sense of rubato, while still incredibly daring, is perhaps more un-erring than [that of] even Wilhelm Furtwängler."

Jochum's older brother Otto Jochum (1898–1969) was a composer and choral conductor; his younger brother Georg Ludwig Jochum (1909–1970) was, like Jochum, an orchestral conductor. His daughter Veronica Jochum is a pianist on the faculty of the New England Conservatory of Music in Boston, Massachusetts.

Jochum died in Munich in 1987, at the age of 84. His wife Maria predeceased him, in 1985.
The orchestra is Symphonieorchester des Bayerischen Rundfunks.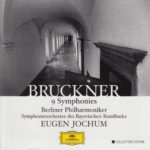 So far, I've been privileged to hear 10 performances conducted by Maestro Jochum – five from the "White Box" and five from the "Green Box." As I've discovered, I prefer one of those box sets over the other. But I'll save the subjective stuff for later.
First, the objective stuff.
I first encountered Eugen Jochum (in my 144-day project) on Day 6 (Symphony No. 1, White Box)
Then again on Day 22 (Symphony No. 2, White Box).
And again on Day 38 (Symphony No. 3, White Box).
And again on Day 54 (Symphony No. 4, White Box).
And again on Day 69 (Symphony No. 5, White Box).
And, most recently, on Day 70 (Symphony No. 6, White Box).
Bruckner's Symphony No. 6 in A Major (WAB 106) composed 1879-1881
Eugen Jochum conducts
Jochum used the ??? edition (no edition – Haas? Novak? Carrigan? – is specified)
Symphonieorchester des Bayerischen Rundfunks plays
The symphony clocks in at 55:07
This was recorded in Munich, Germany, in July of 1966
Jochum was 64 when he conducted it
Bruckner was 57 when he finished composing it
This recording was released on the Deutsche Grammophon (DG) label
Bruckner wrote his symphonies in four parts. The time breakdown of this one (Symphony No. 6 in A Major, edition unknown), from this particular conductor (Jochum) and this particular orchestra (Symphonieorchester des Bayerischen Rundfunks) is as follows:
I: Majestoso…………………………………………………………………………………………………….16:37
II: Adagio. Sehr feierlich (Very solemnly)……………………………………………………….17:14
III: Scherzo. Nicht schnell (Not fast) — Trio. Langsam (Slowly)………………………7:55
IV: Finale. Bewegt, doch nicht zu schnell (With motion, but not too fast)……13:20
Total running time: 55:07
Now, the subjective aspects.
My Rating:
Recording quality: 5
Overall musicianship: 5
CD liner notes: 5 (includes two superb essays, one by Jochum)
How does this make me feel: 5
This interpretation of Bruckner's Sixth is everything I could ever hope for in a performance.
It is well recorded, well played, well paced. Every instrument is clear. The brass does not sound brassy and piercing.
This lacks nothing, which makes it a perfect recording to my ears.
And gives me another opportunity to shout,
"Huzzah!"