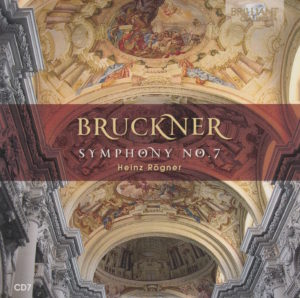 This morning's conductor of Anton Bruckner's Symphony No. 7 in E Major (WAB 107) is Heinz Rogner (1929-2001), who was born in Leipzig, Germany.
Maestro Rogner is part of a box set that bears his name in large letters called Bruckner: Complete Symphonies, which you can buy from Amazon here.
However, even though I'm up to Day 108, I've only heard Mr. Rogner three previous times. All other times dipping into the Rogner box set resulted in me hearing other conductors.
Prior to Day 60 (Symphony No. 4), I had never heard a performance conducted by Heinz Rogner.
I heard him again on Day 76, Symphony No. 5.
And, most recently, on Day 92, Symphony No. 6.
As a reminder, this is from Rogner's bio on Wikipedia:
From 1958 to 1962, Rögner was chief conductor of the Leipzig Radio Orchestra. From 1973 to 1993, he was chief conductor of the Berlin Radio Symphony Orchestra. In 1984, he became chief conductor of the Yomiuri Nippon Symphony Orchestra, and in 1990 took the title of permanent guest conductor.
The great thing about the Bruckner: Complete Symphonies set is it's from Brilliant Classics, one of the most affordable, yet high-quality record labels I've ever encountered. I have many box sets from Brilliant Classics, mostly because they release complete recordings – as in Complete Bach, Complete Mozart, Complete Beethoven, etc. Their prices are incredibly low compared to what you get in return, usually far less than $1 per disc.
(And I swear Brilliant Classics didn't pay me to type those words. I'm just passionate about their label.)
On to the facts of today's recording…
Bruckner's Symphony No. 7 in E Major (WAB 107) composed between 1881 and 1883
Heinz Rogner conducts
Rogner used "ed. Haas," according to the CD sleeve. (But the Haas edition of what?)
Rundfunk-Sinfonie-Orchester Berlin plays
The symphony clocks in at 59:15
This was recorded on August 5, 1983 – location unknown
Rogner was 54 when he conducted it
Bruckner was 59 when he finished composing it
This recording was released on the Brilliant Classics label
Bruckner wrote his symphonies in four parts. The time breakdown of this one (Symphony No. 7 in E Major, ed. Haas), from this particular conductor (Rogner) and this particular orchestra (Rundfunk-Sinfonie-Orchester) is as follows:
I. Allegro moderato…………………………………………………………………………18:51
II. Adagio. Sehr feierlich und sehr langsam…………………………………..18:50
III. Scherzo. Sehr schnell………………………………………………………………….9:15
IV. Finale. Bewegt, doch nicht schnell……………………………………………12:01
Total running time: 59:15
From the liner notes on Symphony No. 7, written by Hans Christoph Worbs,
Anton Bruckner never made a secret of his touching devotion to Richard Wagner. In the first version of his Third Symphony, which he had dedicated to the Master of Bayreuth, there were some Wagnerian musical quotations interwoven which he later removed. And when, while working on his Seventh Symphony, Bruckner heard the shattering news of Wagner's death, he interlaced the Adagio with a funeral hymn. The strange Wagneresque sounds are already evident at the beginning of the movement. Perhaps no other work by Bruckner is closer to Wagner's tonal language than the Seventh Symphony.
See? I knew I heard Wagner in that Adagio!
And now for my subjective assessment:
My Rating:
Recording quality: 5 (typical Brilliant Classics fare – crisp, clean, and exciting)
Overall musicianship: 5
CD liner notes: 4 (decent essays on each Bruckner symphony, but little information about the conductors)
How does this make me feel: 5
I can't help it. Maybe it's the Brilliant Classics mystique, the fact that I enjoy the label so much. But this recording totally energized me. I was enthralled by every note of Allegro moderato (Movement I). I especially heard the flutes around the 7:00 mark. I don't think I ever heard them before.
I hung on every minute of Adagio.
I was stirred by the Scherzo.
At 59:15, this is a taut interpretation. But its brevity works in its favor in a major way. It's a quick listen of a well-recorded performance.
The benefit of a performance that lasts less than an hour is that, during the course of my time here, I heard it three times in a row. Each time, I found myself stopping what I was doing to look at the timing on iTunes. Which movement was I in? What was the time stamp on that particular passage, those particular instruments?
This CD warrants a very big "Huzzah!" from me.